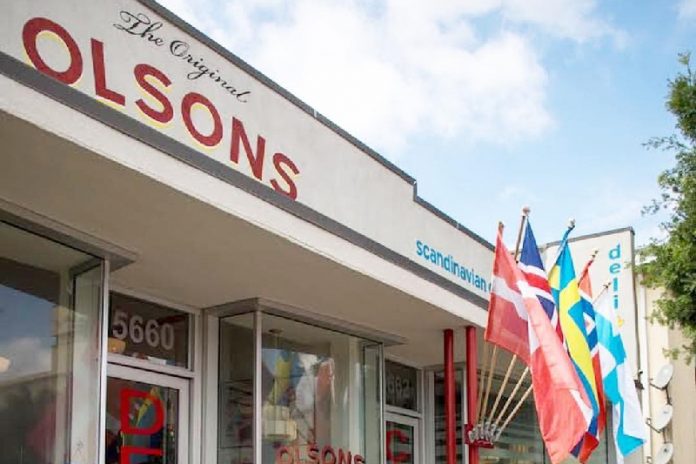 Los Angeles, California
Most Scandinavians living in Southern California are familiar with the iconic Olsons Scandinavian Deli located on Pico Boulevard in the Mid-City area of central Los Angeles.
When cravings have kicked in, most of us have at one point thrown ourselves in the car and rushed to Olsons for a Swedish bulle, semla, Kalle's Kaviar or perhaps a Skagen toast.
But it seems that the deli, which has been around for 71 years since 1948, is having troubles staying afloat, despite being the only Scandinavian deli in the center of Los Angeles.
Yesterday, Olson's started a gofundme campaign, reaching out to old and new clients, in an effort to raise $90k in order to stay alive. On the page they write;
"Help Olsons Deli to stay in business!
My name is Camila and I am the manager for Olsons Deli. On behalf of Olsons, I am reaching out to our beloved customers, new and old, and our wonderful community to ask you for help. We do not want to move or be forced to close this historic little deli and cafe in the heart of Los Angeles. Olson's Deli opened it's doors in 1948 and have served the Scandinavian community for 71 years. Since then a small coffee shop has added to the charm with homemade food, baked goods, and delicious coffee. We are reaching out now to all of you to help us stay in business, grow our menu, import more Scandinavian goods and stay open longer hours. Any help is greatly appreciated and I thank you from the bottom of my heart for your support.
Kindly, Camila and all of us at Olson's"
If you want to support and help Olson's Deli to raise the money necessary to stay alive, check out their GoFundMe page here. 
Swedes in the States are crossing our fingers and hoping that we will see the doors open at Olson's Deli again!
Featured image: Olson's Scandinavian Deli