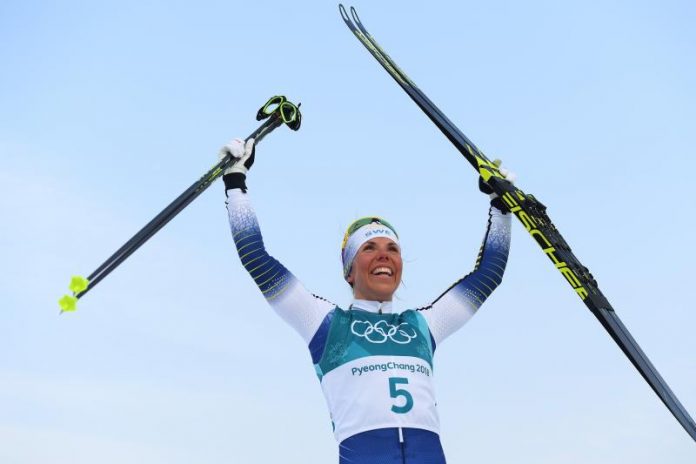 The 2018 Winter Olympics are heating up thanks to a talented and tenacious group of Nordic athletes.
Norway, the historical winner of all the Winter Olympic games (with a total of 350+ medals!), is currently in first place. Trailing shortly behind is Germany, Canada, Netherlands, and France.
Norway
13 Gold
1. Aksel Lund Svindal – Men's Downhill
2. Johannes Thingnes Boe – Men's 20km Individual
3. Simen Hegstad Kreuger – Men's 15 km Individual + 15 km Skiathlon
4. Norway – Men's 4 x 10km Relay
5. Johannes Hoesflot Klaebo – Men's Sprint Classic
6. Norway – Men's Team Sprint Free
7. Ragnhild Haga – Ladies' 10km Free
8. Norway – Ladies' 4 x 5km Relay
9. Oystein Braaten – Men's Ski Slopestyle
10. Norway – Men's Team Ski Jumping
11. Maren Lundby – Ladies' Normal Hill Individual Ski Jumping
12. Harvard Lorentzen – Men's 500m Speed Skating
13. Norway – Men's Team Pursuit Speed Skating
One of Norway's most exciting wins was the 4x10km relay, when Norwegian teammates Johannes Høsflot Klæbo, Simen Hegstad Krüger, Martin Johnsrud Sundby, and Didrik Tønseth beat the Russian team by 10 seconds.
14 Silver
Kjetil Jansrud – Men's Downhill Alpine Skiing
Henrik Kristoffersen – Men's Giant Slalom
Ragnhild Mowinckel – Ladies' Downhill Alpine Skiing
Ragnhild Mowinckel – Ladies' Giant Slalom
Marte Olsbu – Women's 7.5km Sprint Biathlon
Norway – 2x6km Women + 2×7.5km Men Mixed Relay Biathlon
Martin Johnsrud Sundby – Men's 15km cross-country skiing + 15km Skiathlon
Simen Hegstad Kreuger – Men's 15km Free
Marit Bjoergren – Ladies' 7.5km + 7.5km Skiathlon
Maiken Caspersen Falla – Ladies' Sprint Classic
Johann Andre Forfang – Men's Normal Hill Individual
Norway– Nordic Combined Team large hill/4×5km
Håvard Lorentzen – Speedskating Men's 1000 m
Norway – Biathlon Men's relay
10 Bronze 
Robert Johansson – Men's normal hill individual ski jumping
Sverre Lunde Pedersen – Men's 5000m speed skating
Hans Christer Holund – skiing Men's 30 km skiathlon
Marit Bjørgen – Women's 10-kilometer freestyle cross-country skiing
Kjetil Jansrud  – Men's super-G alpine skiing
Tiril Eckhoff – Women's mass start biathlon
Robert Johansson –  Men's large hill individual ski jumping
Emil Hegle Svendsen – Men's mass start biathlon
Marit Bjørgen & Maiken Caspersen – Falla Women's team sprint
Kristin Skaslien, Magnus Nedregotten – Curling Mixed doubles
What makes Norway such a winning team? Their secret to success is actually a formula of long, snowy winters; a high GDP that supports state of the art training facilities; the genuine friendship between teammates; and humor – there's an old folk saying that "In Norway, kids are born with skis on their feet."
"I think we are lucky to be on this team," said Klaebo, the youngest member of the Norwegian team. "… To be able to take the gold is unbelievable."
FUN FACT: On 6 February 2018, before the games, the Norwegian Olympic Team chefs inadvertently ordered 15,000 eggs from South Korea because of a Google Translate error. They only wanted 1,500 eggs. 
Sweden
Sweden, who is currently in 12th place on the Olympics standings, is also having a very exciting time. The Swedish men's curling team, led by skip Niklas Edin, is the only undefeated team in the tournament. "I am not surprised we are playing well but I am surprised we are both undefeated so far," Edin said, "because that takes a lot at the Olympic Games to not lose any games… We have to try to keep it up and keep our focus out there."
Edin and his team will be facing off against the USA tomorrow in a race for the gold medal. With the way things are currently going, there's a very good chance that they'll raise their gold medal count to 6!
5 Gold
Charlotte Kalla – Cross-country Women's 15 km skiathlon
Stina Nilsson – Cross-country Women's sprint
Hanna Öberg – Women's individual biathlon
Frida Hansdotter – Women's slalom
André Myhrer – Men's slalom
Sweden – Biathlon Men's Relay



5 Silver
Sebastian Samuelsson – Men's pursuit
Charlotte Kalla – Women's 10 km freestyle
Sweden  Women's 4×5 km relay
Charlotte Kalla, Stina Nilsson – Women's team sprint
Sweden – Women's biathlon relay
Finland
A few spots below is Finland at number 19. Although they haven't won a gold medal yet, Finland has already racked up four bronze medals – two of which were won by cross-country skier Krista Pärmäkoski in the Women's 15-kilometer skiathlon and Women's 10-kilometer freestyle.
4 Bronze
Krista Pärmäkoski – Women's 15-kilometer skiathlon
Enni Rukajärvi – Women's slopestyle
Krista Pärmäkoski – Women's 10-kilometer freestyle
Finland women's national ice hockey team – Women's tournament
Iceland & Denmark
Although Iceland has not won any medals yet, they are currently competing in two sports: Alpine skiing and Cross-country skiing. The final Nordic country to compete, Denmark, is involved in five sports: Alpine skiing, Cross-country skiing, Curling, Freestyle skiing, and Speedskating. Although they haven't won any medals yet either, we wish them (and all of the countries) luck and a successful time at the Olympics!