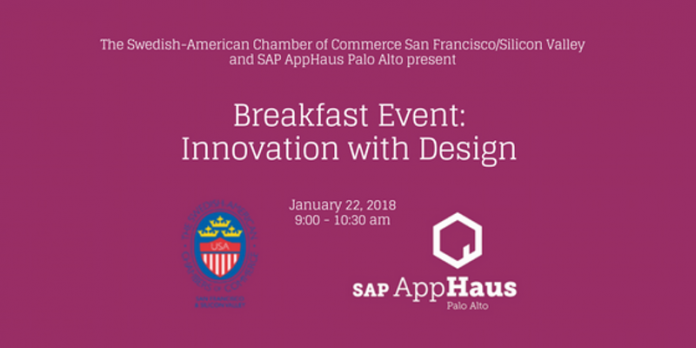 When: Monday, January 22, 9:00-10:30am
Where: SAP AppHaus Palo Alto, Building 9, 3475 Deer Creek Rd, Palo Alto, CA 94304
Kickstart the new week with the Swedish-American Chamber of Commerce San Francisco/Silicon Valley at the breakfast event Innovation with Design on Monday, January 22nd, at SAP AppHaus Palo Alto.
The SAP AppHaus is a dedicated space for creativity, collaboration, and innovation. Here, a team of talented design thinkers and doers generate ideas and bring them to life, together with SAP customers and end users. SAP believes that innovative organizations are successful because they have the right combination of three core elements: people, process, and place. Learn more about how SAP innovates with Design and become inspired on how to use Design Thinking.
Coffee and a light breakfast will be provided.
We look forward to seeing you!
When? Monday, January 22, 9:00-10:30am
Where? SAP AppHaus Palo Alto, Building 9, 3475 Deer Creek Rd, Palo Alto, CA 94304
Tickets have to be bought in advance. Buy them here: https://www.eventbrite.com/e/innovation-with-design-breakfast-event-tickets-42053229341