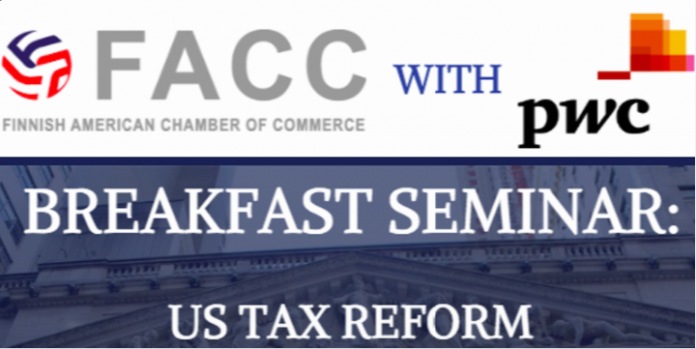 FACC Breakfast Seminar with PwC: US Tax Reform – What it Means for the Nordic Companies?
When
February 6, 2018, 9.00 AM – 11.00 AM (EST). Registration opens at 8.30 AM.
Where
PwC Auditorium – PricewaterhouseCoopers LLP, 300 Madison Avenue, New York, NY 10017
We have been on the cusp of a historic moment witnessing the passage of the most significant U.S. tax reform legislation in the past 31 years. The Tax Bill (H.R. 1) signed by President Trump on December 22, 2017, represent fundamental changes to the entire landscape of U.S. taxation, and the new rules will have a dramatic effect on the way Nordic companies operate in the U.S. and globally.
Please join us for an interactive breakfast seminar on Tuesday, February the 6th with PwC's leading U.S. tax professionals Steven Tseng (Principal, Transfer Pricing and FACC Board Member), Bernard Moens (Partner, International Tax and Inbound Tax Services Leader) and Mike Danilack (Principal, Washington National Tax Services) to discuss what the U.S. Tax Reform means for your business and how to get prepared for the dramatic legislative changes.
PwC is a leading provider of professional tax services worldwide offering experienced and comprehensive help for a wide range of business needs. PwC's tax practice is on the cutting edge of one of the most challenging and intellectually rigorous fields, working with some of the world's largest organizations on tax planning, global structuring, and tax controversy.
We look forward to connecting with you!
The event is organized in collaboration with: The Norwegian Chamber of Commerce, The Icelandic American Chamber of Commerce, The Danish American Chamber of Commerce and The Swedish American Chamber of Commerce.
***
What is the U.S. Tax Reform all about?
On December 22, 2017, President Trump signed the tax reform bill (H.R. 1, the "Tax Cuts and Jobs Act") into law. The law will lower business and individual tax rates, modernize U.S. international tax rules, and provide the most significant overhaul of the U.S. tax code in more than three decades. For more information on the content of the new legislation, please refer to PwC's U.S. Tax Reform website:
https://www.pwc.com/us/en/washington-national-tax/us-tax-reform.html