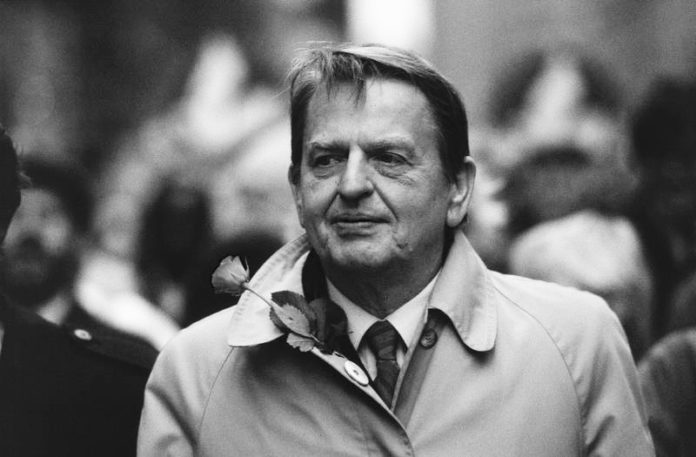 [Update]
The article previously claimed that the murderer of Olof Palme had been found. However, since the prime suspect is no longer alive, the case has been closed, and no one will be convicted for the murder.
In 1986, it was the shot that was heard all around Sweden: the then-Prime Minister, Olof Palme, was walking home from a movie theater with his wife Lisbet when he was shot in the back. Palme was pronounced dead on arrival at the Sabbatsberg Hospital shortly after midnight, and the entire country went into mourning over such an act.
Now, more than 34 years later, the mystery as to who killed Palme has finally been closed.
At a Wednesday morning press briefing in Stockholm, Chief Prosecutor Krister Petersson officially closed the investigation and concluded that "Skandia Man" Stig Engström might have been the murderer of prime minister Olof Palme. 
The suspect, Engström, was nicknamed the Skandia Man because he worked as a graphic designer at the insurance company Skandia, which was a short walk from the murder scene.
Engström died by suicide in 2000.
"Since the person is dead, I can't prosecute him but have decided to close the case," Petersson said.
The investigation looked into whether Engström acted alone or as part of a bigger group of conspirators. There is no evidence of Engström collaborating with anyone else, although Prosecutor Petersson does not want to rule that option out.
The magnitude of the inquiry could have been compared to that of the investigation into JFK's murder:
"It is usually compared to John F Kennedy's murder. It is by far the largest investigation that has been conducted in Sweden." noted an investigator.
The file consists of 22,000 double-spread pages, involving a total of 90,000 people. More than 10,000 people have been questioned about the murder of Palme.
A total of 134 people have pleaded guilty to the murder, and 29 of those have gone straight to the police to admit it. In the search for the murder weapon, a total of 788 guns have been tested.
"The weapon part is obviously both very central and interesting," noted an investigator, adding that they have looked at a wide range of bullets that could have been used in the murder.
So, what finally tipped the scales into concluding that Stig Engström might have killed Palme?
According to the inquiry, Engström had experience of using firearms.
"We have confiscated at least one weapon that matches the caliber used but we sadly did not receive a positive match response from the National forensic centers. However, considering what happened, he must have had a weapon in his hand that night." Petersson said.
According to chief investigator Hans Melander, Stig Engström was discovered by a new research group formed in 2017, starting to go through the old material again.
Although Engström was initially treated by the police as a simple eyewitness to the assassination, he was later upgraded to a potential suspect.
"We then came to the conclusion that one person did not match with the rest of the bigger picture. One person didn't fit in. His statements did not match what other witnesses had said."
When investigators looked into Engström's background, they found he was around weapons his whole life, having been in the army, and was a member of a shooting club. He was also part of a circle of critics of Palme's policies. In fact, Engström's relatives said he had a negative view of the prime minister.
"How he acted was how we believe the murderer would have acted," Petersson concluded.