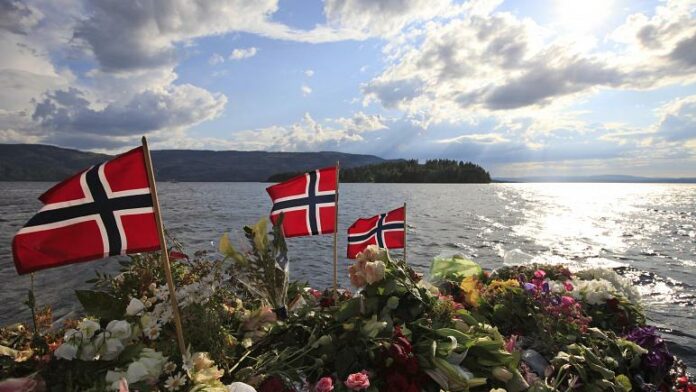 July 22 is a solemn day that will be remembered by Norwegians for a long time, as the deadliest attack happened in Norway since World War II.  
In 2011, right-wing extremist Anders Behring Breivik carried out two terrorist attacks within a matter of hours: the first was a car bombing in Regjeringskvartalet, the government quarter of Oslo, where eight people died. Breivik then continued on to take a ferry to Utøya island in Viken county dressed as a policeman, where he would open fire at a political summer camp for teenagers, killing 69 people – the majority of them being kids.
The terrorist attack at Utøya sent shockwaves around the world, and would ultimately lead to a stronger focus on counter-terrorism and extremism in Scandinavia. Today, Ander Behring Breivik is serving a 21-year sentence at a high-security section at Skien prison in Norway. If he is still considered a threat to society by the end of his sentence, it can be extended indefinitely.
 

 

View this post on Instagram

 
To commemorate the ten-year anniversary of the terrorist attacks, a national memorial by Manthey Kula will be placed at the quay from which ferries leave to Utøya. The memorial will feature 77 bronze columns, commemorating every person killed in the attacks. 
However, there have been some snags along the way: the memorial won't be open in time to mark the 10th anniversary because of ongoing disputes between locals and the government. 
Some locals are against the monument because they fear that the site will become a tourist attraction, while survivors and those who have lost a loved one are disappointed and angry at the delay.
"It is a beautiful memorial, which has so many different elements that pay tribute to the victims, on a beautiful site down by the water in view of the island. It should have been ready for July 22," said Lisbeth Kristin Roeyneland, whose daughter Synne was murdered in the attack.
A group of survivors from Utøya also created the Twitter account @aldriglemme, meaning 'never forget' in Norwegian, which has reposted tweets about the Utøya attack as they appeared 10 years ago.
Besides the ongoing memorial near Utøya, there are currently more than 1,000 iron roses outside Oslo's cathedral, replicating the flowers laid by Norwegians in the days after the tragedy. On Utoya island, there is also a suspended metal ring that features the name of each victim.
Featured image: Copyright AP Photo/Lefteris Pitarakis