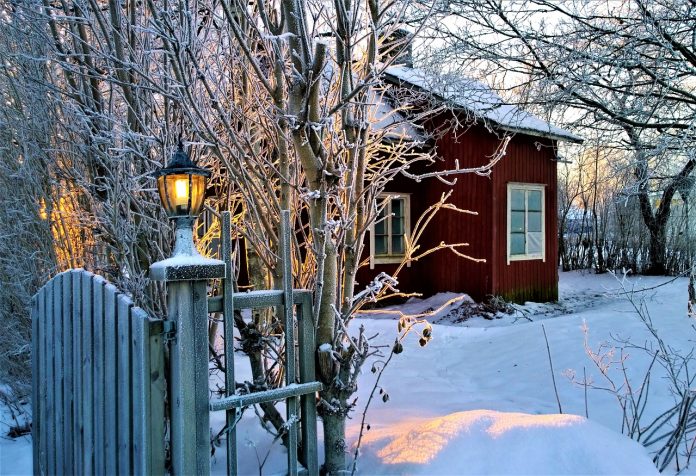 The Nordic countries have some of the best places to experience this winter.

If you're looking for a winter wonderland, look no further than our top ten places to visit in the Nordics this holiday season. Warm up some lussekatter (traditional Swedish Christmas buns), pour your favorite bottle of glögg, and let's take a look!
ICEHOTEL, SWEDEN
Looking for a cool hotel to impress your travel buddies? Check out the original ice hotel, which is only 200 kilometers from the Arctic Circle.

Every year when Torne River turns to ice, a new Icehotel is built in the small village of Jukkasjärvi. Workers harvest huge blocks of ice from the river and construct the hotel from snice (snow + ice), which is used for the floors, walls, and ceilings. The end result is a gorgeous hotel made almost out of ice.

How did it all start? Yngve Bergqvidt recalls, "On a cold winters day, all of our warm cabins were booked for the night but we had a group that wanted to stay the night. I suggested that they could sleep in the cold Artic Hall. To my surprise, the guests said yes so we equipped them with warm sleeping bags and instructed them how to sleep in the cold. The morning after they were blown away by the experience. Icehotel was born."

Every year is a new experience. That's because Icehotel gathers graphic designers, architects, industrial engineers, and artists from around the world and asks them to come up with a new concept for the suites.

The artists come to Jukkasjärvi in November to build their design, and six weeks later, the hotel is ready for business!

Besides chilling out (get it?) at the hotel, you can also go snowmobiling across the frozen lake, hiking, cross-country skiing, and even dog-sledding with a team of Huskies.
ALTA, NORWAY
Alta is commonly known as The Town of Northern Lights, and for good reason.

Although this small town has a population of only 20,000, thousands of tourists visit it annually to get a chance to see the dazzling Northern Lights phenomenon.

During the winter, Alta experiences the Polar night, when the sun never rises above the horizon. This means that for 20-22 hours a day, it is almost pitch black — which makes it the perfect place to chase down the elusive light show.

In order to have the best chance of seeing the lights, we recommend booking at least two nights in Alta, bringing a tripod to stabilize your shots, and hiring a guide to find the best spots.
COPENHAGEN, DENMARK
For the best Christmas decorations in all of the Nordics, head to Tivoli Gardens.
Every year, the capital of Denmark is decked out in Christmas lights, a blanket of (fake) snow, and a warm atmosphere. The best part is that the rides at Tivoli Gardens operate in the winter, so you can sneak in some amusement park fun.

Copenhagen will also launch an exciting new indoor ski slope called CopenHill. Built on top of Copenhagen's waste management center, travelers will have the chance to ski or snowboard all 400 meters of the ski slope.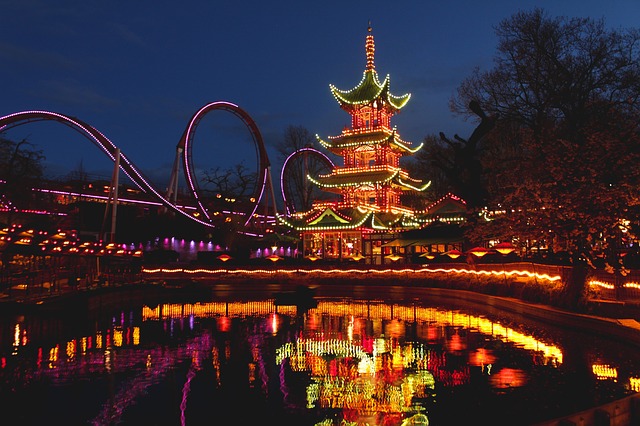 STOCKHOLM, SWEDEN
For travelers who want to combine the charm of a big city with the coziness of winter, look no further than Sweden's capital, Stockholm.

Start your trip by walking down Drottninggatan (Queen Street) and enjoying the Christmas lights. Don't forget to stop by a cafe for some fika before heading over to the skating rink at Kungsträdgården. Depending on the weather, you might even be able to skate on Lake Mälaren if it's frozen enough!

In the month of December, grab some souvenirs at one of Stockholm's many Christmas markets, the oldest and most famous one being at Stortorget in Old Town (Gamla stan). or just walk around and drink mulled wine and eat gingerbread cookies.

SEE SANTA IN FINLAND
Most people believe that Santa Claus lives at the North Pole… or does he?

Kids and adults alike can see Santa Claus in real life at the Santa Claus Village in Rovaniemi, Finnish Lapland. The entrance to the village is free and includes an entire campus filled with restaurants, Santa Claus' home, the elves' workshop, souvenir shops, and hotels. If your little one has been good all year, he or she can even take a photo (and receive a gift!) with Santa Claus.

ICELAND
We're including the entire country of Iceland in our list of the best places to visit in winter because, well, why not?

The whole country is turned into a holiday wonderland and there are so many things to do in Iceland during the winter.

For starters, beat the cold by soaking in the world-famous Blue Lagoon, where the temperatures are always a steady 37°C to 40°C (98-104°F). There are also natural mud masks available to clean out your pores while you warm up.

Afterwards, book a tour on a unique Iceland-only activity, like exploring an ice cave (such as Vatnajokull glacier in South East Iceland or Langjokull glacier in Southwest Iceland), scuba diving between two tectonic plates, or glacier hiking (such as the Solheimajokull glacier). It's best to book in advance since tours sell out quickly during the winter period.
IGLOO HOTEL, FINLAND
If the ice hotel didn't inspire you, hop on over to the neighboring country of Finland and reserve a spot at an igloo hotel. Kakslauttanen, located 150 miles above the Arctic Circle, is home to the famous igloo hotel pods that have been popping up all over Instagram and Facebook. Guests can choose between reserving a glass igloo (clear enough to see the Northern Lights!) or a snow igloo (kept at a comfy -3C).

The best time to visit is between August through late April, where your chances of seeing the Northern Lights are the highest.

Besides gazing at the stars, another unique activity near this area is going on a reindeer safari, where travelers can help herd reindeer and interact with the Sami people that live nearby.
SKIING, SWEDISH LAPLAND
If you're into snow sports and prefer an active vacation, why not try skiing at the world's northernmost ski resort?

Riksgränsen, located in Swedish Lapland, has plenty of snow and a variety of different ski runs for travelers of all skill levels. For the especially adventurous, there's even heliskiing, which is a trail that is only reachable by helicopter instead of the traditional ski lift.

DOG SLEDDING, GREENLAND
Greenland, one of the lesser-known countries on our list, is popular for a long-standing winter tradition: dog sledding! In fact, Eastern Greenland is known as the dog sledding capital of the country, especially the small town of Tasiilaq.

Take a tour with an experienced dog musher, where you'll travel to the Tasiilaq fjord, learn how to manage your own team of sledding dogs (called Greenland Dogs, which are closely related to the Husky), and take in the picturesque views of the country.
If you're considering a career change, you can even get your own dog sled drivers license after a couple days of training! How's that for a unique souvenir?

VISIT A CHRISTMAS MARKET
If you're like us and can't decide on a country, why not visit all of them?

The best part about winter is all of the Christmas markets that pop up around the Nordics. A Christmas market is usually an area that is decorated with lights and ornaments, and include kiosks that sell everything from homemade souvenirs to cookies, mulled wine, and more. Here are a few of our favorites:

Liseberg Christmas Market in Gothenburg: Open every December, this is one of the biggest traditional Christmas markets in Scandinavia. There are more than 80 (!!) holiday booths with decorations, Christmas-themed food and drinks, and plenty of activities for kids.


The Aarhus Christmas market in Denmark is perfect for any weather – that's because it's one of the few indoor Christmas markets! Artists will especially love this Christmas market because it comes with almost 100 booths full of unique Christmas art, decorations, and handicrafts.


The Icelandic Christmas Village in Hafnarfjörður is a popular winter destination for travelers visiting Iceland, where they can buy Icelandic crafts, contemporary gifts, and holiday decorations. If you're up to date on your Icelandic mythology, you can even meet Iceland's 13 Santa Clauses at this market.
Those are our top picks — which places or activities would you love to do? Let us know in the comments, and happy holidays!