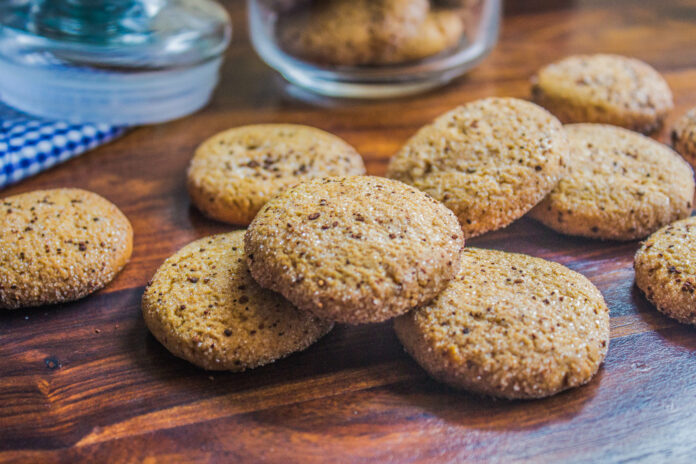 Christmas is the time to think of the future, make plans, rejoice with our loved ones, and most importantly, eat.
With the winter season already upon us, it would be really great to dish out some Christmas goodies a tiny bit earlier this year. Especially because many of us are still working from home and are on a constant lookout to cater to our untimely cravings for snacks. So, what better than munching on something that smells "Christmas-y" owing to the appetizing aroma of ginger and cinnamon.
Here is the recipe for Gingersnaps, which has the perfect balance of sugar and spice. I have tried to make it a wee-bit healthier but cutting down on the amount of butter added to the traditional recipe. Because of this, I didn't get as many cracks, but it has the same crunch and tastes as awesome as the traditional one. To get the typical cracked cookie appearance, add 2 more tablespoons of butter to this recipe.
Ginger is an integral part of this Swedish recipe and instead of using ginger powder, I grated fresh ginger root into the dough mixture. I recommend looking at this page where you will find genuine reviews and a great selection of graters, which you can use to finalize the perfect gadget for your kitchen needs.
So, here is how you can prepare the tastiest, easiest, and fancy looking cookies ever!
Ingredients
¼ cup butter, softened to room temperature
¼ cup granulated sugar, additional 1 tablespoon
1 small egg
¼ cup molasses/ honey
1 cup all-purpose flour
1 teaspoon baking powder
1 teaspoon ginger root, grated
¼ teaspoon ground cinnamon, additional ½ teaspoon
¼ teaspoon ground clove
Directions
1. Preheat the oven to 175 degrees C and line a baking tray with butter paper.
2. In a bowl, beat butter and sugar until the mixture is light and fluffy.
3. Whisk in egg and molasses until the mixture is frothy.
4. Sieve flour and baking powder into the egg mixture.
5. Mix in ginger, cinnamon, and clove until lightly knead the mixture into a soft dough. You may add a tablespoon of flour to the mix if required.
6. In a separate bowl, mix a tablespoon of granulated sugar with ½ a teaspoon of cinnamon.
7. Take the walnut-size section of the dough and then roll it into the cinnamon-sugar mixture.
8. Slightly flatten the dough ball and place it over the prepared baking tray.
9. Repeat this process with the remaining dough and sugar mixture.
10. Bake cookies for about 15 minutes or until they turn light brown in color.
11. Serve and enjoy!