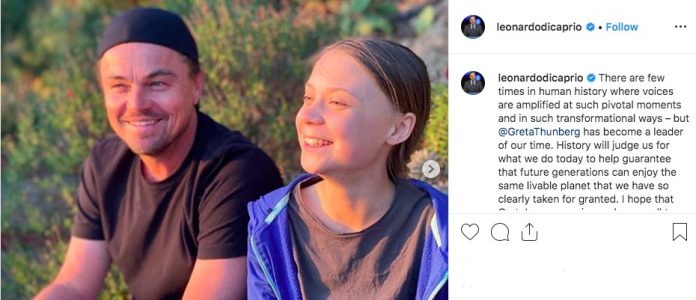 What happens when two environmentalist stars collide? They post about it on Instagram.
In a maybe not so surprising turn of events, fans of Leonardo DiCaprio and Greta Thurnberg got to see the two stars meet after DiCaprio wrote a post on his personal social media profile. 
The Academy Award winner shared a picture of him and the Swedish student, with the caption: "There are few times in human history where voices are amplified at such pivotal moments and in such transformational ways – but Greta Thunberg has become a leader of our time."
He continued that 16-year-old Thunberg's message should be a "wake-up call to world leaders everywhere that the time for inaction is over".
"It was an honor to spend time with Greta," he said. "She and I have made a commitment to support one another, in hopes of securing a brighter future for our planet."
A few days later, Greta was spotted hanging out with another Hollywood star: none other than Arnold Schwarzenegger. 
The actor and former governor of California also posted a photo on Instagram of him cycling with Greta in Santa Monica, who he described as a "hero".
Schwarzenegger wrote, "It was fantastic to see my friend and one of my heroes [Greta Thunberg] last week and go on a bike ride around Santa Monica together and I was so pumped to introduce her to my daughter Christina. Keep inspiring, Greta!"
What other stars will Greta meet? Only time will tell – but let us know your guesses in the comments below.