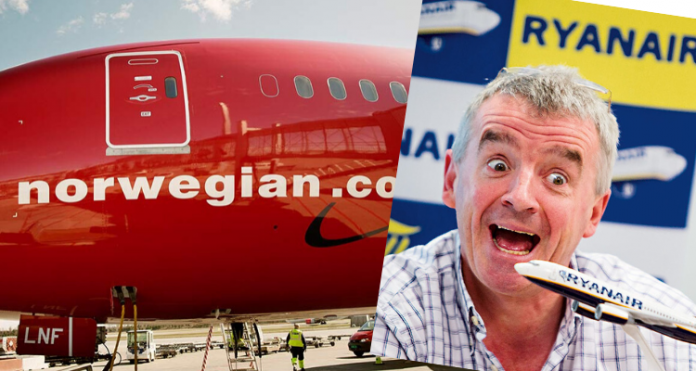 This week in travel: two major airlines go head to head after Ryanair's CEO offers a few choice words about his competitor. And it's not the first time Mr. O'Leary goes after Norwegian.
Grab your popcorn and sit down – it's about to get interesting.
Earlier this week, Ryanair's CEO Michael O'Leary had an eyebrow-raising interview with CNBC's Squawk Box Europe. One of the highlights was when Mr. O'Leary stated that rival airline Norwegian is bound to go bust sooner or later, claiming that the company is "doomed." 
O'Leary continued by noting that Norwegian was saddled "with enormous debts."
"We are continually cutting costs, Ryanair is continually passing on those lower fares, and that's what stimulating our growth and it's what's accelerating the demise of airlines like Thomas Cook, Aigle Azur, and Norwegian, who I think won't be far behind them."
Readers might be wondering, what is the reason behind Mr. O'Leary's explosive claims? 
Last month, Norwegian announced that it was planning to sell five of its Boeing 737-800 aircraft to a unit of China Aircraft Leasing Group. 
Rapid expansion by Norwegian left the company with high debt and losses that have prompted it to announce recent measures designed to cut costs. It reported a 1.45 billion Norwegian krone loss ($159 million) in its full-year 2018 results, saying it had been "strongly affected by engine issues, fuel hedge losses and tough competition in a period of strong growth."
The company said in a statement that the aircraft sales "is expected to increase the company's liquidity by approximately $50 million after repayment of debt and have a positive equity effect."
"The sale is in line with the company's continued strategy of capitalizing on the scale built up over the last few years and the changed focus from growth to profitability," it said.
However, Mr. O'Leary isn't having any of it:
"They're now resorting to selling the aircraft to raise 50 million bucks, which wouldn't pay the fuel bill for a week. Norwegian is doomed, the business model doesn't work and they're saddled with enormous debts. It's only a matter of time before it goes bust." he said.
This isn't the first time that Ryanair went head to head with Norwegian. In 2018, Mr. O'Leary said that he was "shocked [that Norwegian] was still flying as it loses heroic sums of money" and predicted it would go bust last winter.
Having primarily focused on an aggressive expansion, it might not be much cause for worry that Norwegian Air hasn't been profitable lately. Their shift in focus from expansion to profitability, which started earlier this year when they cut routes that were not as profitable, such as Los Angeles -Stockholm, and added routes that were more profitable, could give Norwegian a great boost in numbers for 2020.
READ: Norwegian Air Cancels Hundreds of Flights to the United States
Not one to stay quiet, a Norwegian spokesman hit back and said: 'These comments are from the same broken record and have no root in reality. Norwegian continues to fly an increasing number of passengers as we continue to focus on building a strong, sustainable and global business to benefit our customers, employees, and shareholders.
'We're focusing on our business and at this time Mr. O'Leary should focus on Ryanair.'