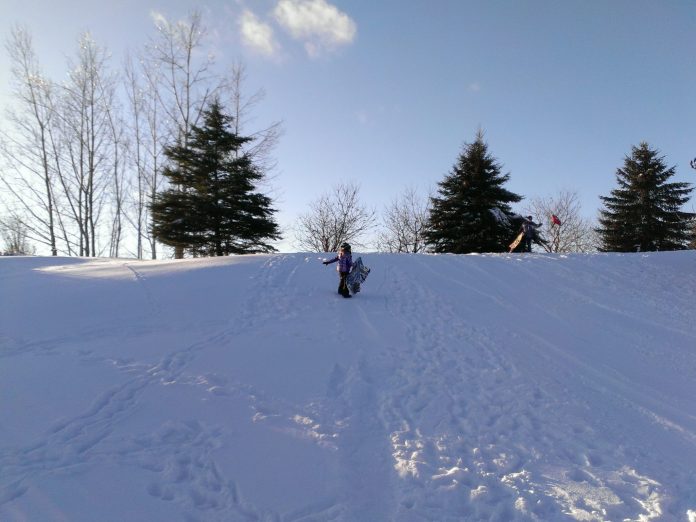 Warm and sunny weather is often considered one of the perks of living in Southern California, but it can make it difficult to get into the holiday spirit. Drinking mulled wine and decorating the tree while wearing shorts and flip-flops just doesn't feel right to most Scandinavians.
Luckily there is no reason to fret, another perk of living in LA is that we have easy access to almost everything, including ice and snow. Ski-resorts are only a few hours away in places like Big Bear and Mountain High, Santa's Village in Skypark is so magical it might very well be where Santa goes when the North Pole gets too cold, and CHILL at the Queen Mary offers an amazing ice adventure for the whole family.
Below are some tips for places in and around LA that offer ice and snow for the holidays and winter season. Don't forget to dress warmly!
ICE SKATING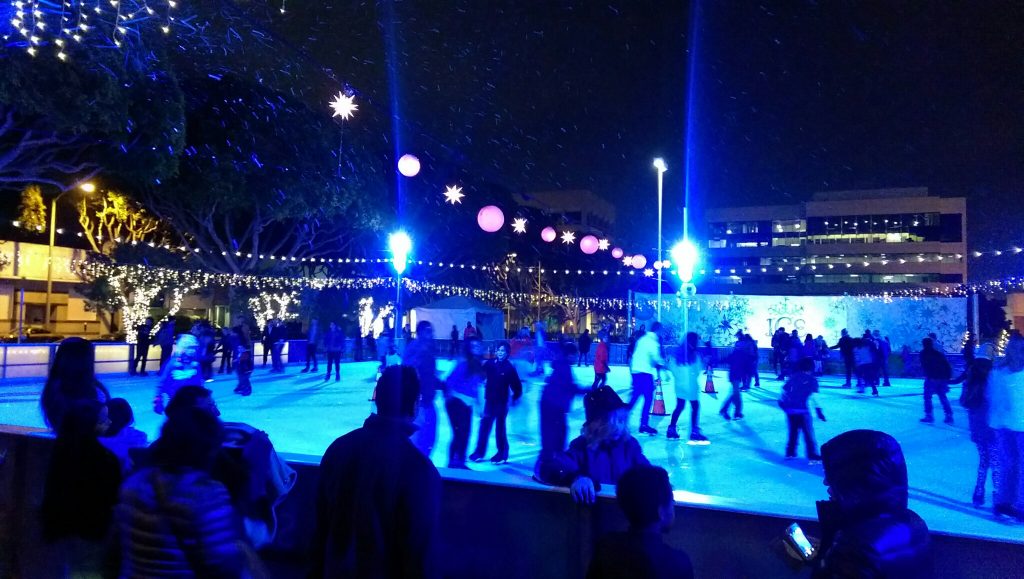 "Ice" in Downtown Santa Monica is an outdoor ice-skating rink with music, holiday lights and hot chocolate – a fun winter activity for the whole family.
Where: The corner of Fifth Street and Arizona Avenue in Santa Monica
When: From November 1st, 2017 through January 15th, 2018
Monday — Thursday  2 p.m. to 10 p.m.
Friday 2 p.m. to Midnight
Saturday 10 a.m. to Midnight
Sunday 10 a.m. to 10 p.m.
How much: 
Skate rental and all day admission – $15
Locker rentals – $5
More information: http://downtownsm.com/iceAtSantaMonica
SANTA'S VILLAGE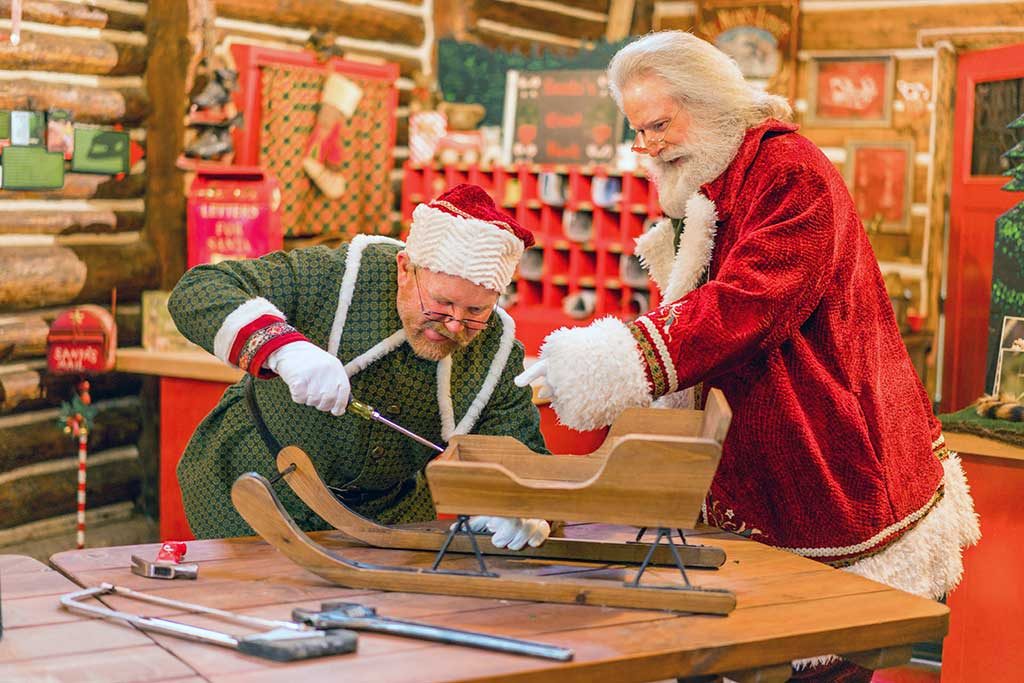 SkyPark at Santa's Village is a North Pole-themed year round outdoor adventure park nestled deep in the Lake Arrowhead area of the San Bernardino National Forest.
During the holiday season the park is transformed into Santa's Christmas Village, a magical winter wonderland.
Where: 28950 CA-18, Skyforest, CA 92385 (about 2 hours from LA)
When: Open year round, with a special Santa's Village Christmastime Celebration from November 9, 2017 – January 7, 2018
How much: Children $49, Adults $59
For opening hours and more information go to: http://skyparksantasvillage.com/plan/#hours
SNOW FALLING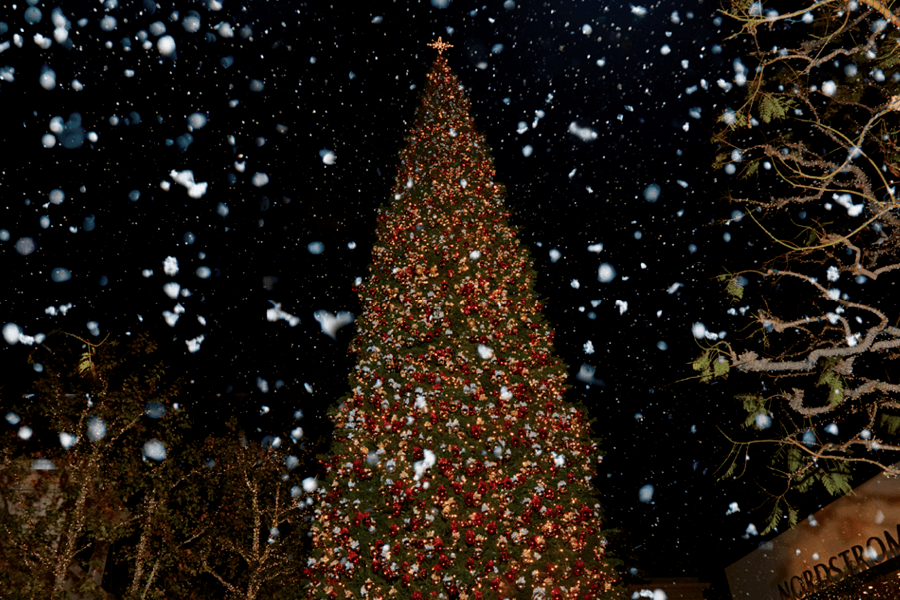 For some holiday magic while shopping, go the the Grove, where it snows every evening!
When: Snow falls every evening at 7 & 8 pm, through December 25.
You can also visit Santa's Workshop at The Grove through December 24th.
For more information go to: https://thegrovela.com/
ICE ADVENTURE PARK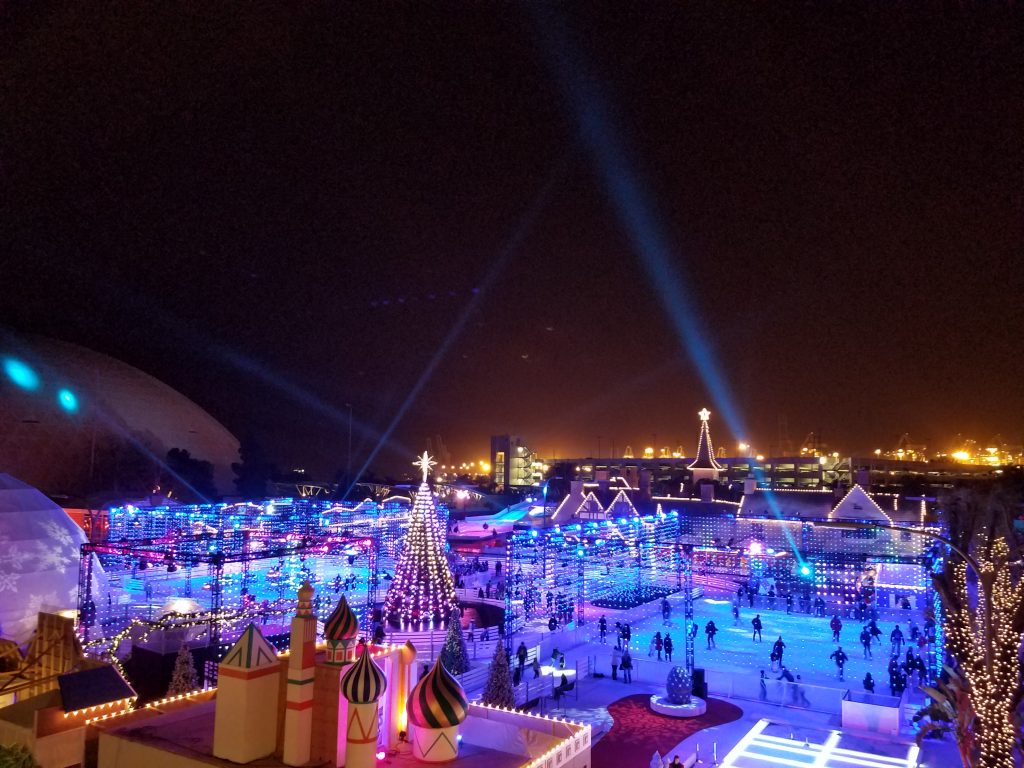 CHILL at the Queen Mary is a 38,000-square foot Ice Adventure Park with fun activities for all ages:
Outdoor skating
Bumper Boats and Tricycles on ice
Zip Lining
Ice Shuffleboard
Ice tubing slides
Nightly lighting of the Christmas tree
Visits from Mr. and Mrs. Santa Claus
A global sampling of food, music and live entertainment
Chilled cocktails at the Ice Bar
When: Open daily from 4:30 pm – 11:00 pm, Dec. 13 – Jan. 7 (closed December 31st)
Where: At the Queen Mary – 1126 Queens Hwy, Long Beach, CA 90802
Tickets: Children 19.99, Adults 29.99
More information: http://www.queenmary.com/events/chill-2017-2018/
SKIING AND SLEDDING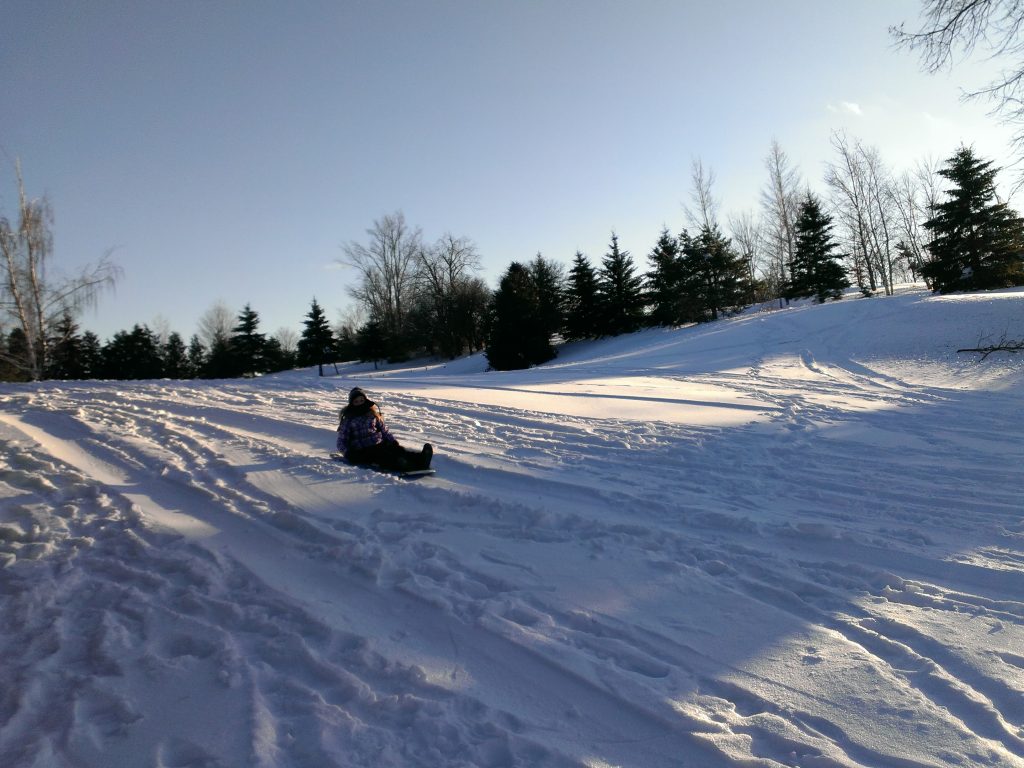 If you are looking for the real thing, there are many ski-resorts not too far from the city, such as:
Mountain High (approximately 90 min from LA)
http://www.mthigh.com/site
Snow Valley (approximately 90 min from LA)
Big Bear (approximately 2hrs from LA)
https://www.bigbearmountainresort.com/
Snow Summit at Big Bear (approximately 2hrs from LA)
https://www.bigbearmountainresort.com/winter/mountains/mountains/snow-summit-winter