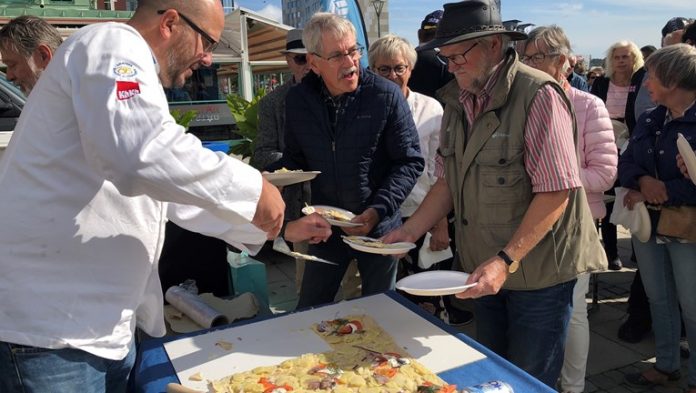 Once upon a time, in a small town along the Swedish High Coast, a man had a dream to bake the world's largest surströmming [fermented herring] roll.
In 2018, his dream came true. This is his story.
The event took place two years ago in the town of Ullånger. Torbjörn Ullsten, CEO of the Mjälloms Tunnbröd bakery, always played around with the idea of baking a huge surströmmingsklämma, which is a piece of fermented herring sandwiched between two pieces of flatbread and smothered in potatoes, sour cream, onion, and dill.
"We had the idea a few years back to back the world's biggest tunnbröd," Torbjörn Ullsten, chief executive of Mjälloms Tunnbröd said to TT.
"And it wasn't too much of an extra step to make it the world's largest surströmmingsklämma, even if the category doesn't exist in the record books."
The process began with Mjälloms Tunnbröd baking a long piece of flatbread. As Mr. Ullsten notes, "When we rolled out [the flatbread] it became almost 60 meters long. The record itself is measured in square meters and therefore its final dimensions became 26 square meters. The old record was 15 meters."
More than 25 kilograms of sour cream, 100 kilograms of potatoes, and eight kilograms of butter were used to create the final product.
The time of the contest, the lucky locals were invited to a "picnic", where they could take a piece of the roll and celebrate the bakery's big win.
This article was originally published on August 31, 2018, and has since then been updated.